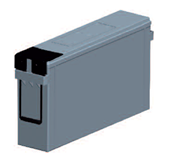 Type of batteries
The device is equipped with Hawker XFC batteries advice. They are valve-regulated lead-acid batteries. Valves batteries should never be opened !!! These batteries do not require refilling of distilled or demineralized water. This are a maintenance-free batteries.
An operation
A life of Battery depends on usage conditions (temperature and depth of discharge). The nominal operating temperature is 30 ° C. At temperatures above 45 ° C batteries should not be used. Battery capacity varies with temperature and decreases especially at temperatures below 0 ° C. A discharged battery can freeze.
Discharging
The number of cycles during the life of the Hawker XFC batteries will be maximum if the battery is discharged only to shallow depth and recharged as often as possible. Hawker XFC batteries are adapted to occasional charging.
Battery life
1200 cycles at ZVEI of 60% or 800 cycles at 80% depth of discharge
The device is equipped with an anti- low battery, but only part of traction. If the information display shows one bar is necessary to charge the batteries. When leaving equipment, always turn off the main power switch to prevent unwanted discharge of the battery.
Charging
Batteries must be charged by charger approved especifically for Hawker XFC. For these batteries must be used by approved charger, if this is not observed, it might cause a limitation of battery life !!!
Storage
It is recommended to store the batteries fully charged in a cool, dry place, preferably at the temperature of 20 ° C.
More information about the batteries specified in the instructions for operation and maintenance advice Hawker XFC batteries.
The device must be charged by charger approved specifically for Hawker XFC. A Special charging profile was developed for charging batteries Hawker XFC, which enables faster charging. Between-recharging is also possible and it does not damage the batteries.
The charger is powered directly from the mains 240V.